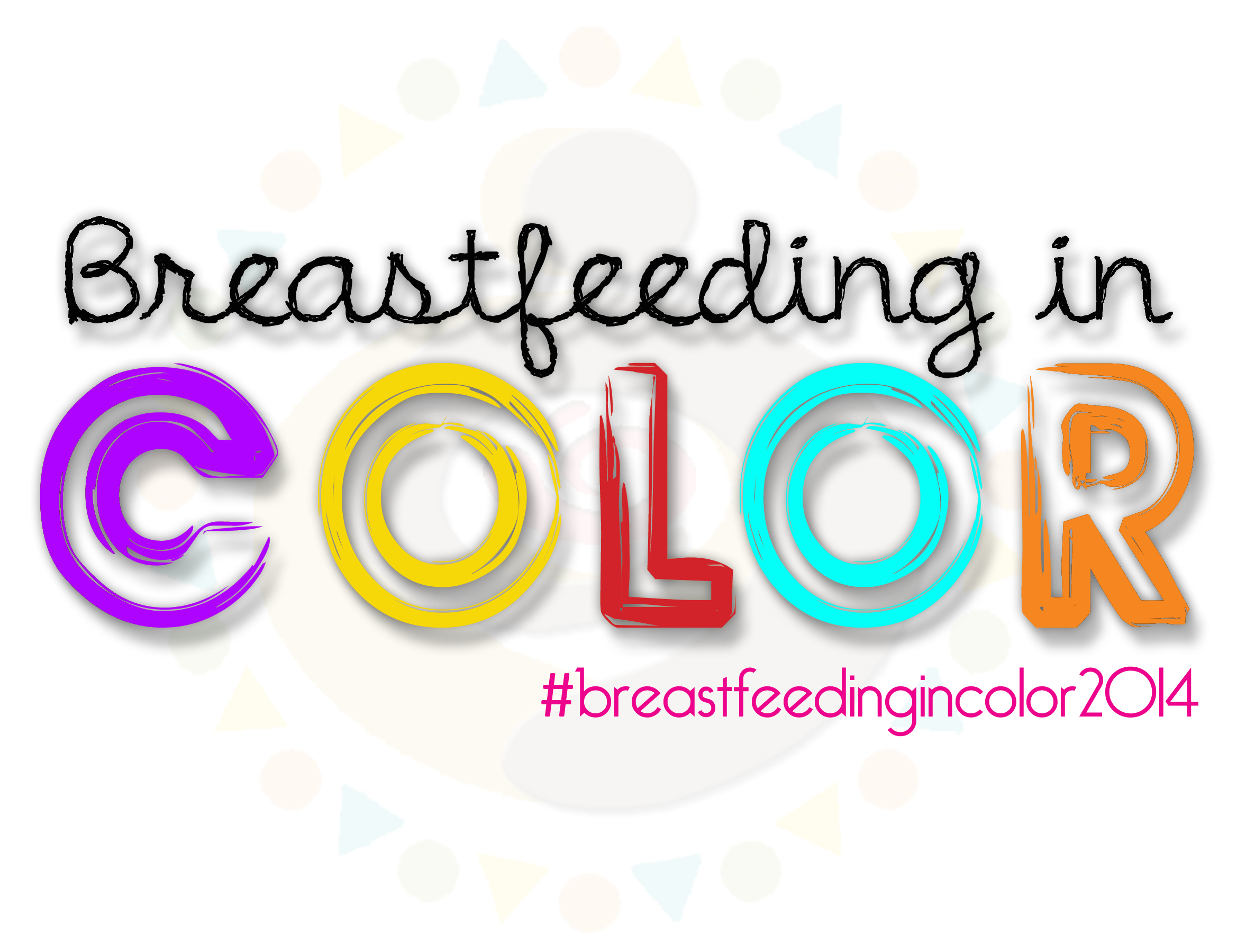 For many non-white women, particularly Black (African-American) women, the idea of breastfeeding is intersected with commodification and sexualization of the black body, a painful history and epic memory extending back into enslavement, and minimal examples of success and support. The most recent report by the CDC (2013) analyzed 8 years of data, examining breastfeeding intiation and duration rates by race. What the data revealed was an increase in duration and initiation rates amongst both black women and white women, with the gap narrowing for duration between 6-12 months postpartum. Despite the increase of breastfeeding initiation for Black women from 47.4% in 2000 to 58.9% in 2008, black babies still have the lowest prevalences of breastfeeding initiation and duration amongst all racial groups. White women have a 75.2% initiation rate, while Hispanic women have an 80% initiation rate.
This data highlights a need for support, education, and a debunking of myths related to breastfeeding in the Black community. Further, it reveals a need for culturally competent providers, lactation consultants, community organizers, doulas, childbirth educator, and others, who understand the impact of socioeconomic conditions, racism, food deserts, poor family dynamics, and cultural stigmas surrounding breastfeeding.
This Breastfeeding in Color focuses on the myth of "low-milk supply" and how the belief of "not making enough milk", contributes to unsuccessful duration rates. We will start with the story of Ladonna & Darius. Enjoy!
==========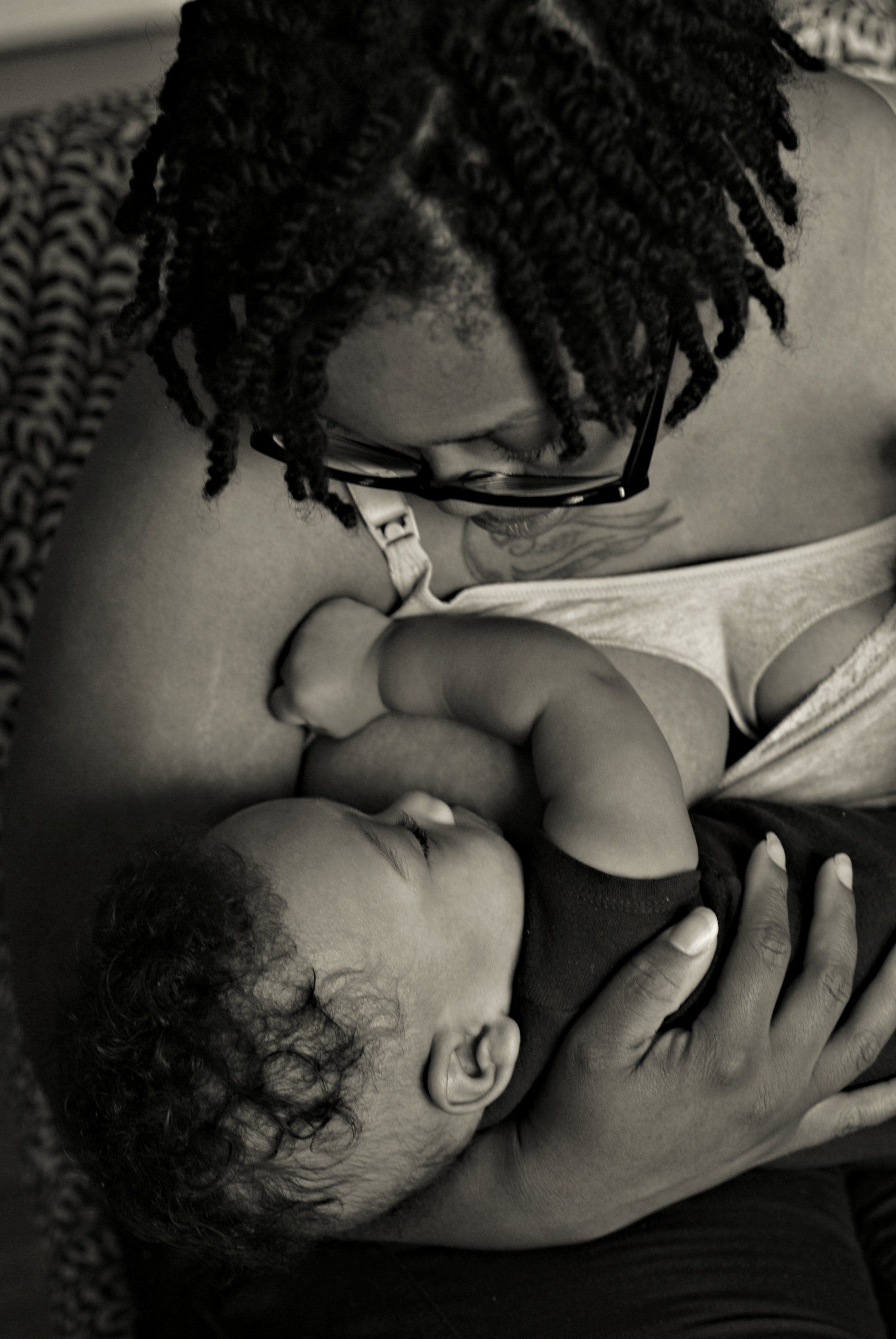 I always knew I wanted to breastfeed, so I was determined to stick with it no matter how difficult it was. I read a lot and I understood that baby [Darius] and I would both be learning. I had an unmedicated delivery, but my son had no interest in eating the first day. He just wanted to sleep.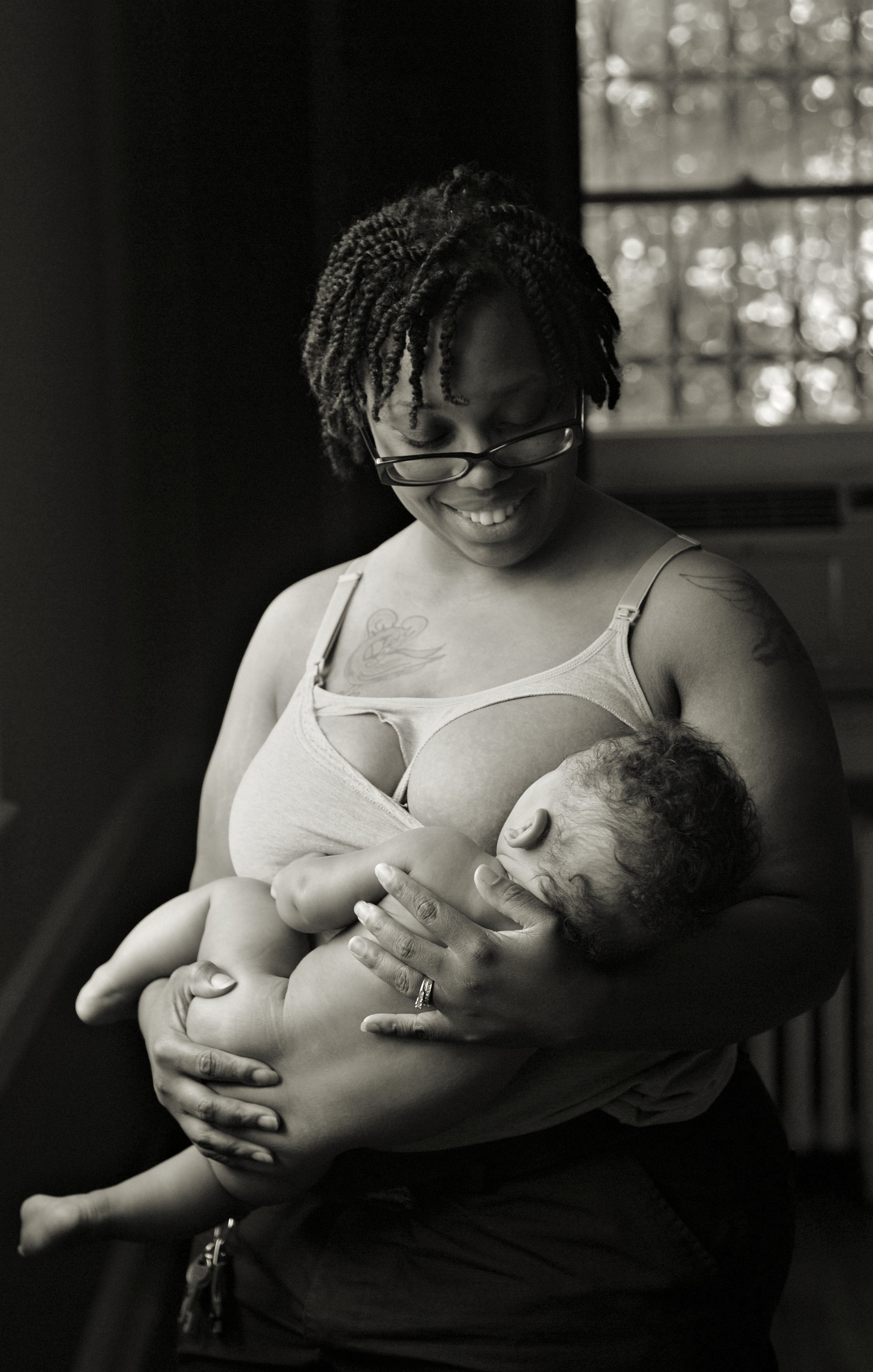 Fast forward to day three! It was our first day home and my son showed the hubs and I that he had a set of lungs on him! Hubs started getting antsy because he didn't like seeing our son cry everytime he was at the breast. He mentioned going to get formula to feed him until my milk came in. Although he eyed the keys often, he never went and my milk came in during the wee hours of day 4. Things became easier once the milk was there, but not much easier. It is definitely a learning curve! The first few weeks are definitely the toughest.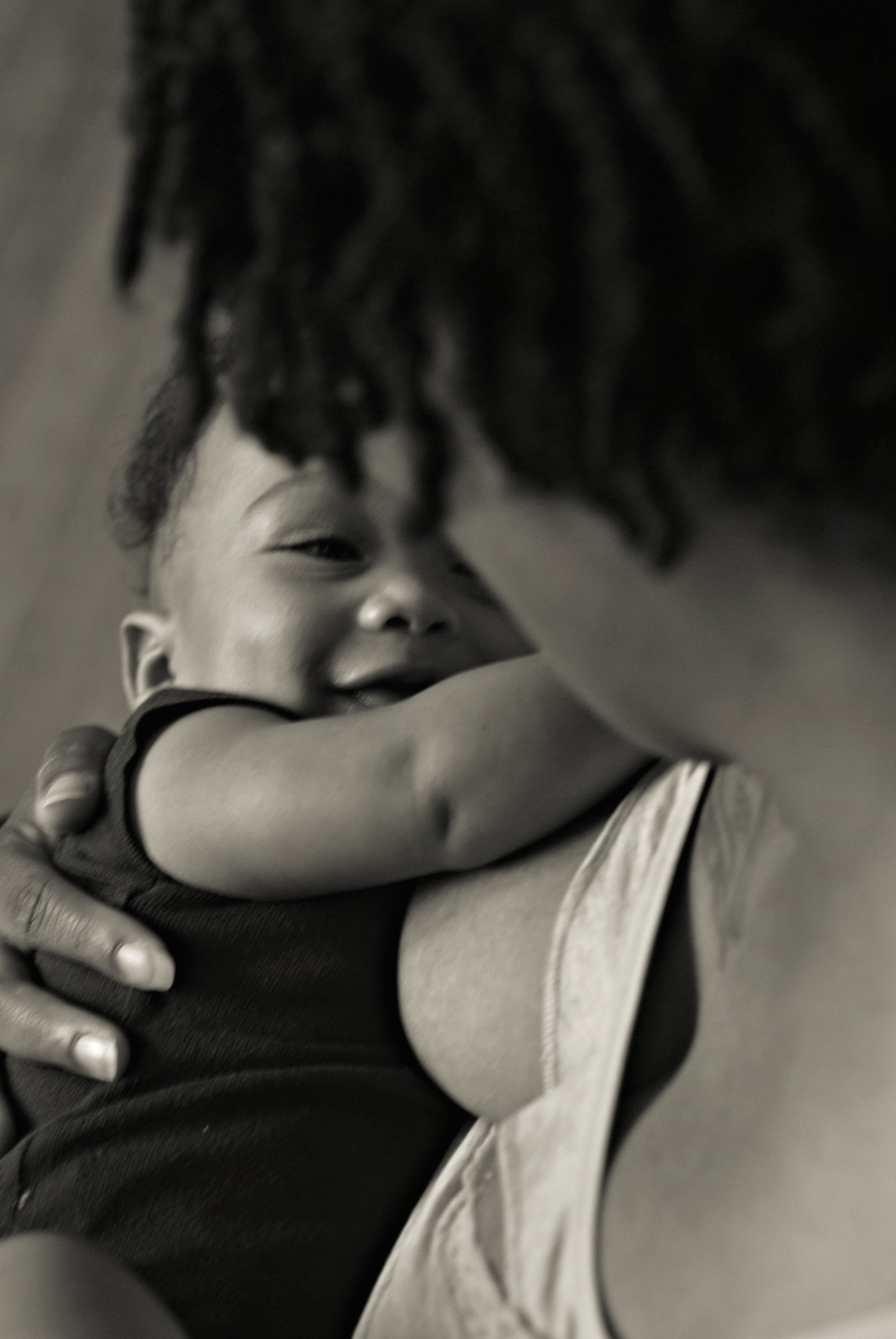 Now we're five months in and I feel like we're old pros now. I nurse in public (scary at first but gets easier) and on demand. Other than that day when he mentioned formula, hubs has been my number one supporter. Friends don't understand the whole breastfeeding thing as they have all formula fed their babies. My family is more understanding even though we were a formula fed family.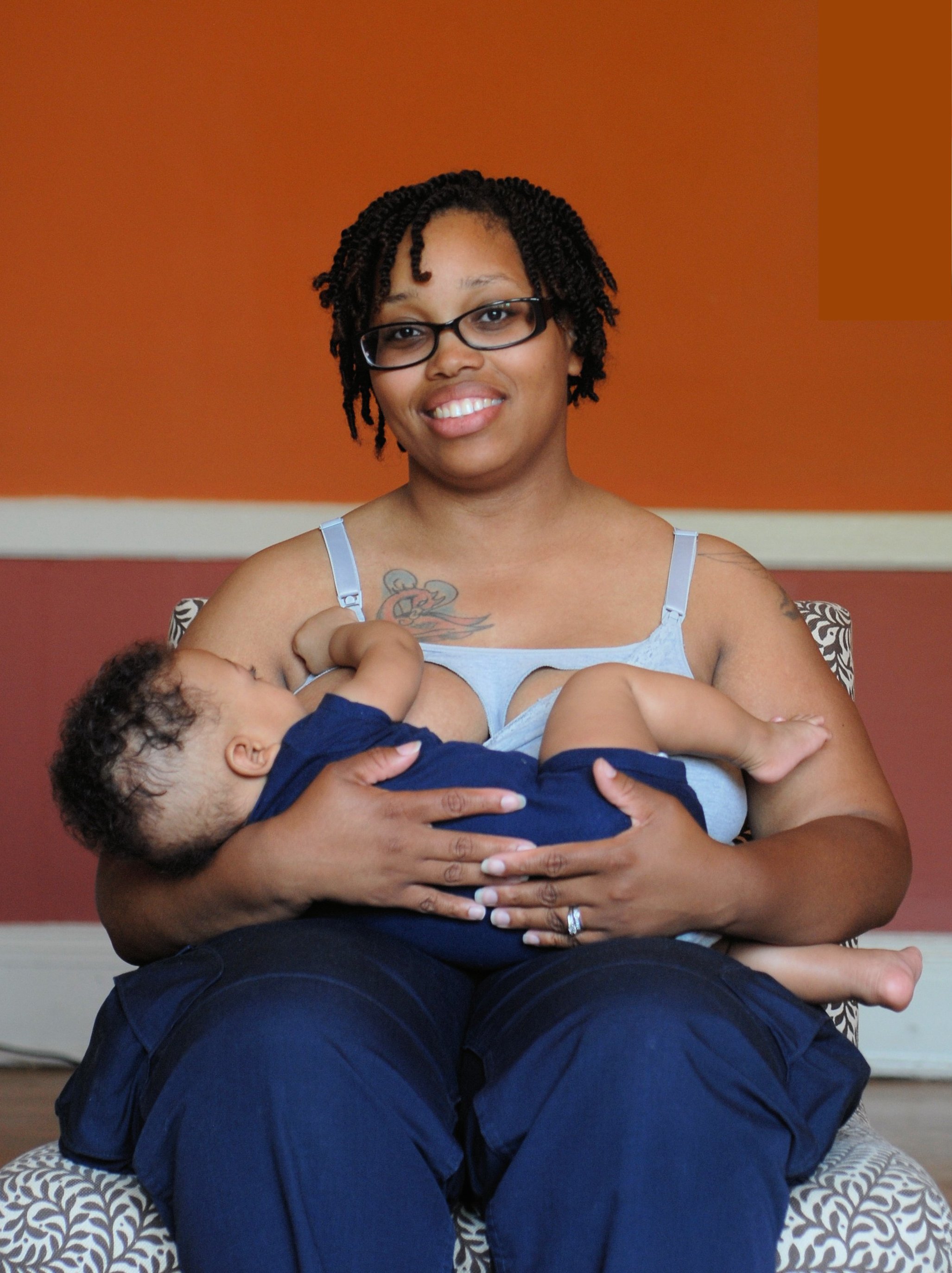 ==========
How much does baby really need?
To understand how much a baby needs, we must first look at storage capacity.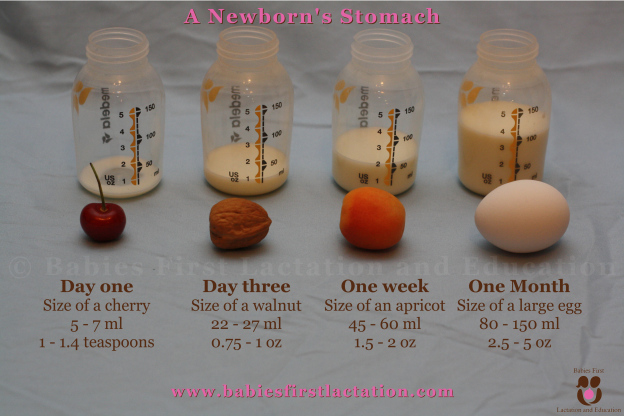 image by Katie Wickham RN BScN IBCLC
Many breastfeeding mothers can often remember being told "you aren't making enough milk...that baby is still hungry; she's crying all the time, won't you give'em a bottle." This plants the first seed of doubt. Mothers begin to ask themselves, "do I have enough of what my baby needs?" The answer is emphatically YES! the majority of the time. There are rare situations where a mother truly has low-milk supply.
So...you've had your beautiful baby...congratulations...and you are ready to breastfeed. Here are some things you should know in advance:
You should know what type of nipples you have (we will have a post on this soon).

Breastmilk has 3 different stages. The first milk that is produced is colostrum aka liquid gold. You start making colostrum during pregnancy in preparation for your baby. It is produced at a slower rate than subsequent phases and is low in fat, high in protein, and full of antibodies that protect and coat your babies digestive tract. It functions like your babies first vaccines, protecting them from infections. Colostrum also contains laxative properties that aid the baby in passing their first stool (meconium).

Around day 2-4 your transition milk will come in. This process will take longer with an elective cesarean or without the start of labor. Your milk supply will increase and will change in appearance and composition (stuff the milk is made of). Transition milk lasts for approximately 2 weeks and is composed of high levels of fat, lactose (sugar), water-soluble vitamins, and contains more calories than colostrum. You may be experiencing engorgement, where you breast feel full and heavy.

The last and final phase is the mature milk. Mature milk contains a perfect balance of what your baby needs for healthy growth and development. It is 90% water and 10% carbs, proteins and fats. Mature milk is composed of two distinct types, foremilk and hindmilk. Foremilk is thinner and is at the beginning of the feeding. It is low-fat, higher lactose and contains water, vitamins, and protein. This milk keeps baby hydrated and provides baby with usable energy. Hindmilk is produced after a let-down and is high in fat, gives baby the energy it needs for growth, is necessary for weight gain (baby chub).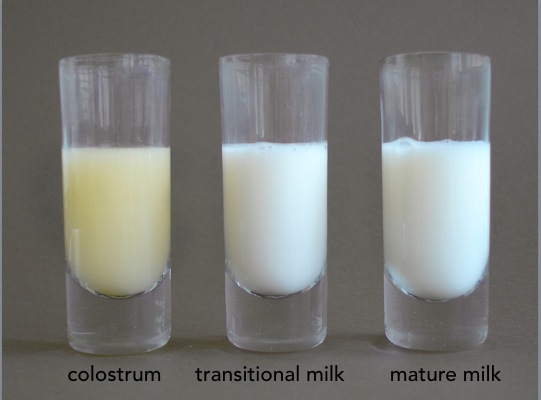 image by Medela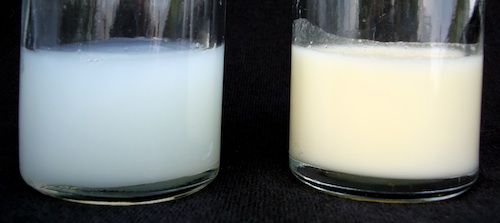 foremilk(left), hindmilk(right)
Feed on demand. Whenever baby is hungry and is showing signs of hunger, put baby to breast. A schedule for a healthy baby, is stressful for everyone. Your baby is use to eating on demand...remember when you were pregnant?

Breastfeeding is supply and demand. The more baby is at the breast, the more milk you will make. The less you nurse, the less milk you will make.

Don't wait until you are in a crisis to get help. Seeking out help from your local WIC, La Leche League, or join the facebook groups Breastfeeding Support Group for Black Moms or Black Women Do Breastfeed.

Breastfeeding is a learning curve and it will take time for you and baby to get in sync!
Take your time. Enjoy this moment. Ask for help. Remember...your body knows how to feed your baby!
Happy Breastfeeding!
photos of mothers cannot be used without permission and are the property of Mamatoto Village, Inc.
The information in this post does not replace the medical guidance of your provider. If you are concerned about the well being of yourself or your baby seek medical advice.
Tag